Custom Copper Work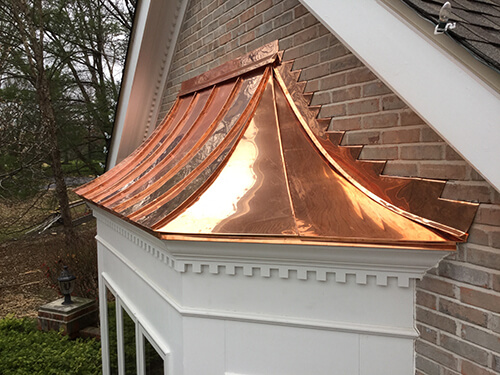 View GalleryFor those who envision a beautifully unique home or commercial building in St. Louis, United Exteriors & Construction offers the exclusive option of custom copper. From roofing, bay windows, standing seams, or a custom shape, United Exteriors & Construction's in-house and certified crew specializes in tailoring copper works to fit your project or remodel.
Benefits of selecting copper for your home's roofing or exterior needs go beyond their timeless look:
Copper is a material that stands the test of time as it can last for well up to 100 years.
Naturally, copper does not need any sealing or coating, saving time and money on maintenance efforts.
Its energy efficiency combats the chance of an unexpectedly high bill.
Copper is fire resistant due to its high temperature tolerance.
The beauty of copper increases your home or commercial building's market value.
For an eco-friendly, long lasting, and transformative remodeling or roofing project, United Exteriors & Construction creates custom copper works that go above and beyond expectations.
To schedule your free custom copper estimate, contact the experts at United Exteriors & Construction today or call 636-312-4747 for more information.