Siding Services in St. Louis
Whether you just need a siding repair or a complete residing project, United Exteriors & Construction is here to ensure your siding project is quick and easy. As a family-owned company with over 20 years of certified experience under our belt, our installers provide the highest quality of work. From start to finish, our team of professionals at United Exteriors & Construction will work to provide you with the siding solutions your home or commercial building needs.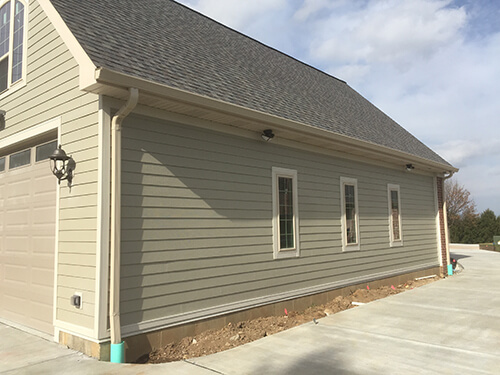 View GalleryIt may seem overwhelming to choose the right type of siding at the beginning of your process, but we've pulled together some key factors to keep in mind for each siding type:
Vinyl Siding
One of the most common types of siding is vinyl and for good reason. Vinyl siding, made of polyvinyl chloride, is a top synthetic plastic that is durably strong yet does not require finish, paint, or maintenance. In terms of customizing vinyl siding to match your home or commercial building's style preferences, the color options are endless. Depending on your home and budget, vinyl siding may be the perfect siding option to transform your home.
James Hardie Siding
Since St. Louis is no stranger to harsh weather, many home and commercial building owners choose James Hardie Siding as it is a fiber cemented product built to withstand the weather extremes such as storms or even fires. Not only are they one of the most durable options, but they require little to no maintenance as they are highly resistant against water absorption that could cause mold, pests, swelling, or cracking. Customizing James Hardie siding to fit your home is easy with their variety of options including vertical siding, board and bratten, or hardie plank lap that come in a different sizes and exposures. Of course, matching trim options are also available for the final touch.
Metal Siding
For siding that is known for its durability and energy efficiency, metal is an excellent choice go consider for your home or commercial building due to its sun reflecting capabilities. Many home and business owners favor metal siding for its lifetime value that requires little maintenance due to its strength against damaging weather. Metal siding offers a rustically sleek look as well that is unique and distinguishable.
To schedule your free siding estimate, contact the experts at United Exteriors & Construction today or call 636-312-4747 for more information.